Having been a virtual participant in the Flat Classroom Japan Conference last March, and having connected students from grade two to six over the last several years from Los Angeles, Kenya, Lesotho, Japan, Australia, Hong Kong, and India, I am certain that global collaboration contributes to authenticity of learning, engagement in school, and the development of empathy.
After exploring Kim Cofino's extensive resources starting with A Step-by-Step Guide to Global Collaborations, The Global Education Conference website, and a few of Cybrarymans's Collaboration links, I am very impressed with the many creative and innovative approaches that have been used and the fascinating artifacts shared.
However, I believe that much of what I see is "doing old things in new ways", as Marc Prensky writes in Shaping Tech for the Classroom. As I alluded to in my own post, Inquiry should be action-oriented, global collaboration should have a point. In order for a project to have meaning, in my opinion, we must be working together to do something to 'make the world a better place'.
In the last few weeks, I was invited to participate in the Peace Crane Project by a teacher in Hawaii. It was a simple collaboration to write messages of peace on paper, fold them into origami cranes, and send them to other classes participating in the exchange. In fact, what I liked most about it was its simplicity. The goal was clear: Send symbolic messages of peace, but how any teacher approached it was up to them. In my case, it was a neat fit for Shibuya Peace Day and we only applied one lesson to it. I could see how other classes might connect the activity to literature by reading Sadako and the Thousand Paper Cranes or integrate it into an arts & crafts unit about origami and folded paper art.
What appealed to me was the simplicity of the project. From that concept, Peace, an infinite variety of learning experiences could grow.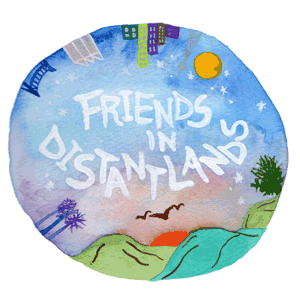 Illustration by Yuka Miller
That's what I had in mind when I started Friends in Distant Lands. The goal is to create an open collaboration for any class that wants to take action to help children in need. I imagine that teachers would join the wiki and set up their own page. As their classes inquire into children's rights and issues, they document and reflect by sharing their products, links, and other resources. As more teachers join, they would find resources useful to their inquiries along with the authentic results of other classes.
Connections between students could occur in an open way, either by discovering each other's blogs, collaborating via google docs or other media, depending on the needs of their inquiries and interests. Open collaboration provides the opportunity to learn and practice the core values of connected learning: Equity, Social Connection, Full Participation. Naturally, teachers could arrange more structured collaborations, even following the same unit plan and completing the same tasks. Perhaps there would be points of collaboration, but not necessarily entire projects. However they do it, teachers and students would contribute to a repository for learning resources related to children's issues to inspire and empower others to pursue their projects. The success of the project would only be limited by the creativity and dedication of the participants.
The point is to help children.
All collaboration is good. Global collaboration fosters international-mindedness and empathy, two values that can only make the world a better place. So get to work! Let's get these kids connected and making a difference! Who knows? Maybe youth connecting globally is the key to world peace. You never know.